Former Leonard Shure student, Dan Gorgoglione, performed a labor of love in gathering reviews, interviews, programs, recorded history and testimonials in an effort to put together the most comprehensive biography on Leonard Shure known today.
On behalf of the Leonard Shure 100 Committee and the Leonard Shure family we thank Dan for this wonderful treat.
Thanks also to Phillip Moll for his tireless pursuit of materials including articles and reviews from Shure's Berlin days as a student of Artur Schnabel.
The most recent revision of the Shure Biography is March 14, 2011.
Click here to download and view the file. Please be patient as the file loads. Once the file opens you can save it to your computer for later viewing!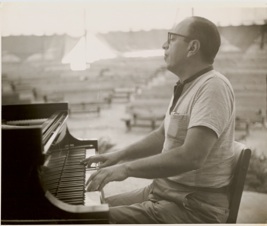 If you have a memory of Leonard Shure that you would like to share, please send a note using our convenient Contact Us form. We'd love to hear from you!